From football to family feasts, Thanksgiving is a great holiday filled with loved ones and delicious food. Instead of hosting Thanksgiving in your home, start a new tradition of celebrating in New Smyrna Beach. Find local restaurants to order NSB Thanksgiving dinner, events such as the Gobble Wobble 5k beach run, and vacation rental homes to host your family holiday.
New Smyrna Thanksgiving Dinners
One of the most important aspects of Thanksgiving, aside from spending time with loved ones, is the food.  In New Smyrna Beach, we have so many of our best restaurants serving Thanksgiving feasts you won't want to miss.
Everyone knows the classic turkey dinner, cranberry sauce, and mashed potatoes, but have you ever had a giant meat ball for your Thanksgiving feast? Devour a 1-pound meatball called "The Bocci Ball" at The Garlic this Thanksgiving. The Garlic is open from 4:00 pm – 10:00 pm on Thanksgiving.

Celebrate Thanksgiving this year at Corkscrew Bar & Grille on Thanksgiving Day from 11 am to 10 pm. Enjoy a special Thanksgiving menu that includes a classic turkey dinner, appetizers, dessert, full bar and cocktails specials.
NSB Thanksgiving Gobble Wobble 5k
Burn the calories you'll eat on Thanksgiving before you even eat them at the NSB Thanksgiving Gobble Wobble 5k. Run (or walk) along the beach in the brisk fall weather before all your Thanksgiving festivities begin.
Join the New Smyrna Beach community on Thanksgiving Day at 9 am. Registration includes a shirt, water stops, and professional photos.  This race begins in front of the Flagler Ave Boardwalk. After your run on the beach in NSB, don't forget to treat yourself to some pumpkin pie!
Places to Stay in NSB for Thanksgiving
Great Ocean Condos and Homes has family-friendly vacation rentals for your holiday stay in NSB. From large private houses for big groups to cozy condos for smaller families, our team of vacation planners are ready to assist you in finding the perfect holiday stay. Below are two rentals perfect for your family to celebrate Thanksgiving together.
This newly renovated beach house sleeps 12 people and had a private heated pool. While it is fall, you can still enjoy the pool and eat outside in the amazing Florida weather! You will be able to cook a delicious Thanksgiving meal in the fully equipped kitchen. There are two kitchens in this house so multiple people can cook at the same time.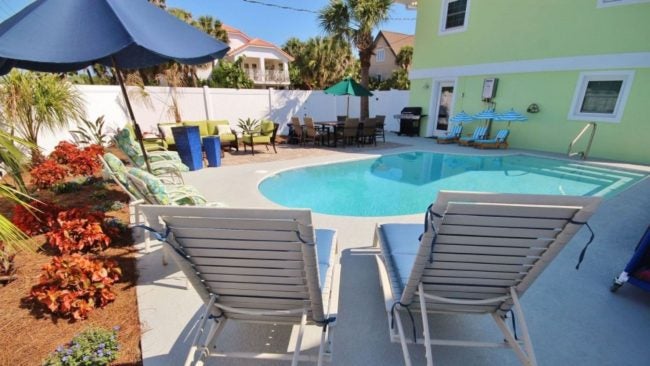 Enjoy a six-bedroom house that sleeps 12 people for your family vacation this Thanksgiving. This home also features a private pool and hot tub for your relaxing holiday. With ample space in the back yard and a fire pit, you can have a lovely Thanksgiving outside in the cool weather with your family.
New Smyrna Beach is a great holiday destination to celebrate Thanksgiving with your family. From delicious holiday dinners to a 5k beach run, unforgettable memories await you in NSB. Need help planning your Thanksgiving beach vacation? Call us at (386) 478-7863 and a vacation planner on our team can assist you in planning your holiday vacation.