The New Smyrna Beach area is a popular vacation destination located along the Central Atlantic Coast of Florida. While hailed as the surfing mecca of the East Coast, this small beach town offers far more than rideable waves. Natives and tourists alike flock here to experience the local ambiance, trendy eateries, unique boutiques, historic sites, water sports, and of course the famous, pristine shores. With its variety of beach vacation activities and jaw-dropping ocean views, the NSB area truly enchants all who come and leaves its sandy imprint forever on the hearts of those who visit.
History of New Smyrna Beach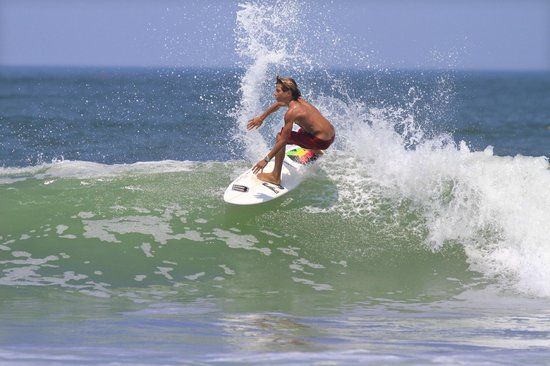 New Smyrna Beach is a crown in Florida's heritage as it is one of the Sunshine State's oldest cities. Founded in 1768 by a British Consul, Andrew Turnbull, New Smyrna was originally a colonization attempt with the aim of creating a large indigo plantation. Its unique name was actually a tribute to the consul's wife's birthplace, Smyrna, Greece. While this coastal town technically has British roots, the colony didn't survive long as all of Florida was repossessed by the Spanish in 1783 due to the Treaty of Paris.
In 1887, New Smyrna's population dwindled at a mere 150 people until the famous namesake, Henry Flagler, opened NSB up to the world with his Florida East Coast railway. This industrialization rapidly boosted the town in population, and it wasn't long before tourism, in addition to citrus and commercial fishing, became its most profitable industry.
Today National Geographic Magazine has named New Smyrna Beach as one of the "World's Top 20 Surf Towns" as it proudly welcomes visitors from around the globe to ride its waves, stretch out on its shore, and experience its one-of-a-kind, small-town atmosphere.
Traveling to NSB
Surrounded by multiple international airports and located near Florida's major highways, our little beach town is certainly not a tricky place to reach! New Smyrna Beach is located northeast of Orlando, south of Daytona Beach and Jacksonville, and east of Tampa.
Before you purchase airfare, compare location and prices of the three major airports nearby. Daytona Beach International Airport (DAB) is located 19 miles from New Smyrna Beach and the larger Orlando International Airport (MCO) is located 74 miles away. While these two airports are more prominent and offer frequent flights, don't dismiss the lesser-known Sanford International Airport as it will save you hundreds on airfare and is only a 35 minute drive from NSB.
Driving to the Florida East Coast? If you're traveling from the north, you'll find that I-95 South will take you right down the Atlantic Coast and lead you almost directly to New Smyrna Beach. Just take Exit 249A onto State Road 44 and you'll shortly reach NSB's sandy shore.
If you're driving from South Florida, the two most popular routes are I-4 and I-95. If you're traveling up I-4, take Exit 118 toward New Smyrna Beach, merge onto State Road 44, and you'll be in New Smyrna within half an hour. I-95 North will lead you up the coast; when you reach Exit 249 merge onto State Road 44 and you'll soon arrive at your destination.
Beach Hours and Rules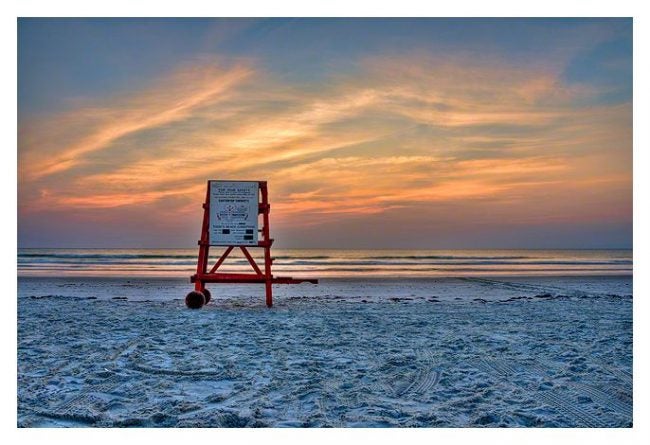 New Smyrna Beach and Daytona Shores offer driving and non-driving sections that allow visitors to experience the best of both worlds with leisurely beach cruises and clear, vehicle-free shores. The beach's driving sections are open 8:00 a.m. to 7 p.m. from May 1 to October 31 and sunrise to sunset from November 1 to April 30. Driving access can be purchased for $20 a day or $100 (for non-Volusia-County residents) for a year pass should that be more cost efficient. Pedestrians and bicyclists are welcomed to enjoy the beach at no cost and at any time of day (so long as safety and tides permit). Please note that only service-animals are allowed on the main beach, however you and your pets can still play in the sand together at Lighthouse Point Park and Smyrna Dunes Park.
Must-Visit Places and Landmarks
You'll quickly realize that New Smyrna is no ordinary beach destination as its streets and shores offer a diverse blend of historic heritage, natural wildlife, and a relaxed, unassuming atmosphere. Ponce de Leon Inlet Lighthouse is an iconic landmark that resides on the inlet where the Halifax River meets the Atlantic. Not only does it provide the best overhead view of NSB, but it also is filled with enchanting tales of yonder days when it guided sailors safely to the Florida coast.
On the southern end, you'll find the Canaveral National Seashore wowing locals and tourists with its 57,000-acre park that's home to marine and land animals alike. Along with hiking trails, camping sites, and seaside horseback riding, this National Seashore holds an exclusive, front-row seat to NASA's rocket launches!
If dining and shopping are your leisure activities of choice, you'll find the best eats and unique shops along historic Flagler Avenue and Canal Street. From acai bowls to art exhibits to live music and beer, these streets share New Smyrna's creativity and fun-loving spirit with all who visit.
Dine, Shop, Play
Crashing waves and shell-speckled shores aren't the only attractions drawing 10 million visitors to the New Smyrna Beach area each year. You need only stroll down its streets to see evidence of a proud community that infuses characteristic, laid-back charm into every storefront and restaurant. Discover our detailed blog sections that explore the locals' favorite places to dine and the best boutiques and shopping on the island.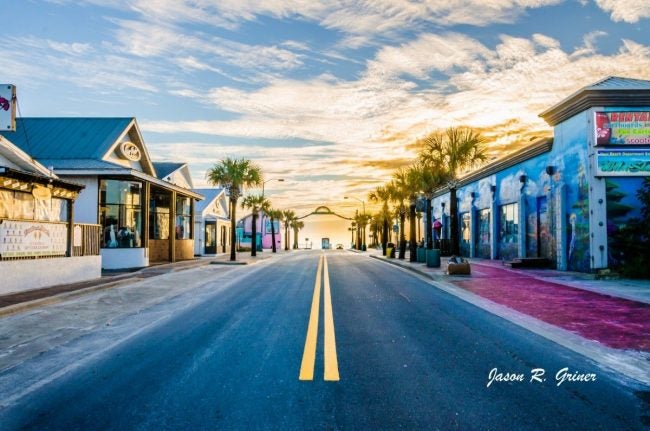 Ready to spice up your vacation calendar with memorable activities? From boat tours that join dolphins on ocean swims to museums that delve into New Smyrna's fascinating history, our Florida coastal town offers a variety of tours, activities, and events that engage every age group.
Visit Surrounding Areas
Daytona Shores – Nestled between the famous Daytona Beach up north and the Wilbur-By-The-Sea and Port Orange area in the south, you'll find the tiny beach town of Daytona Shores. While easily confused with its famous northern neighbor, Daytona Shores is only a 5.5 mile long beach and has provided its 4,300 residents with a small, tight-knit community since 1960. Daytona Shores is a lovely place to visit as it is located only 10 minutes from the exciting fun of Daytona Beach and 20 minutes from the laid-back beauty of New Smyrna Beach.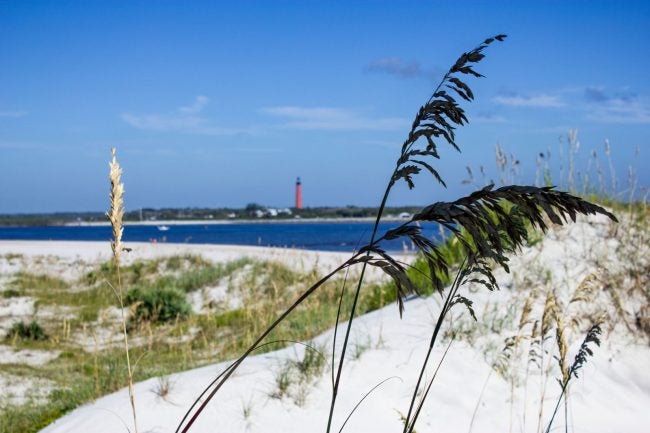 Ponce Inlet – Ever since 1513 when Ponce de Leon first sailed into these Florida waters, Ponce Inlet has served as a welcomed sight to sailors and a historic landmark in the Central Florida East Coast. While primarily known for its crimson, 203-step lighthouse, most don't realize that this inlet town offers so much more with its gorgeous parks, fishing jetties, and lively restaurants.
Bring Fido along for a splash in the waves at the dog-friendly Smyrna Dunes Park; it's one of the few in the area that actually welcome furry friends on the beach! After a romp in the sand, chow down on some delicious food at Down the Hatch Seafood Company or Off the Hook at Inlet Harbor – both offer stunning waterfront dining views! When you're not walking the powdery, white shores, sneak in some educational learning that your kids will flip for when you plan a visit to the Marine Science Center. Not only will you learn about the area's marine environment, but you'll also love its interactive teaching approach to science and environmental stewardship.
Where to Stay
Great Ocean Condos and Homes is one of the largest vacation rental managers on the Central Florida's East Coast. With a selection of over 260 beach vacation rentals, we're proud to offer our annual 26,000 guests the most beautiful vacation stay in the New Smyrna Beach area. From luxury homes that boast of private pools and third-story decks to coastal cottage condos with direct oceanfront views, we have the exact beach rental you've been dreaming of. Explore our direct oceanfront condos, private homes, pet-friendly properties, and more, or give us a call at (386) 478-7863 and our vacation planners will help find the right vacation condo or home for you!